Beaumont-Hamel Pilgrimage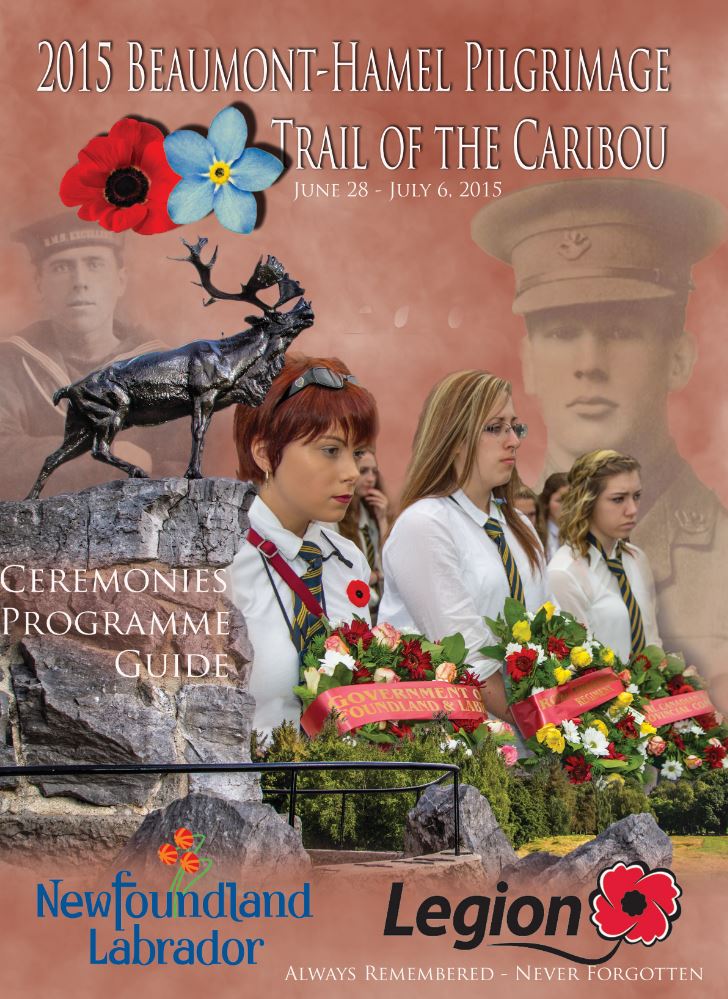 The purpose of the Pilgrimage is "Enduring Remembrance" through a program designed to pair Veterans and youth on a journey of a lifetime, to visit and pay respect to the fallen soldiers and sailors who died in service with the Newfoundland Contingent during the Great War.  Pilgrimage participants travel and participate in a memorial ceremony at each of the five Caribou Memorials in France and Belgium that mark the battlegrounds of the Royal Newfoundland Regiment.  Through this program of remembrance the participating youth become Ambassadors of Remembrance for our fallen heroes so they shall never be forgotten.
The Pilgrimage started in the mid 1970's, when the Royal Canadian Legion focused on youth, generally aged 16 – 18, to carry on their mission of remembrance. The Legion initiated "The Royal Canadian Legion Annual Literary and Poster Remembrance Contest", targeting high schools in Newfoundland and Labrador. A winner in each of the three categories was chosen along with one veteran of each of three main branches of military service: Army, Navy and Air Force. A chaperone for the students and a representative of Newfoundland and Labrador Provincial Command completed the contingent at that time.
By the 1990's this annual pilgrimage added one more youth and one more veteran to the group. In 2006, following a need identified the previous year; the contingent was expanded again to include a registered nurse with experience in assisting and caring for older adults. A translator was soon added as well. In 2013, under the direction of then Premier, Kathy Dunderdale, 12 more young people were added bringing the total to 16 youth, thereby increasing the need for more chaperones.
Working in close relationship with the Government of Newfoundland and Labrador, the contingent today is led by the President of Royal Canadian Legion, Newfoundland and Labrador Provincial Command, in cooperation with representatives of the Government of Newfoundland and Labrador and includes a team that consists of a historian/tour guide, a translator, and 4 chaperones along with 4 veterans and 16 students. Each participant is rewarded with the experience of a lifetime and is entrusted with the responsibility of "Enduring Remembrance".
The center piece of the Pilgrimage is the magnificent Newfoundland War Memorial Park near Beaumont-Hamel, France. This 30 hectare park modeled and built by the same architect who built Bowring Park in St. John's is one of the most visited WWI memorial sites in France and Belgium. Its elegant beauty, respectful solemnity and shell-torn ground host thousands of visitors per year. It is here that the pilgrimage pays its respect on July 1 every year to remember all our fallen soldiers and sailors as well as the greatest one day loss to Newfoundland families that occurred on July 1, 1916 on the opening day of the Battle of the Somme.